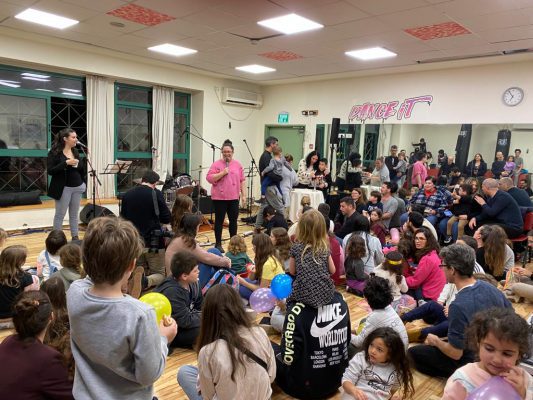 Our Bat-Mitzvah-Hannukah Party – December 2022
On the darkest night of the year, the light emanating from the Ben Gurion Community Center in Holon shone bright. Over 200 community members came together to celebrate Hannukah, the "festival of lights". And what a celebration it was!
Each of the three classrooms in the community center transformed into a different carnival activity, run by volunteers. In one room, Nadia and her son Sahar organized a fun and active dreidel tournament, where the winners and participants received chocolate Hannukah coins. In the room across the hall, Noa D. taught children and adults alike how to thread together friendship bracelets and keychains from glow-in-the-dark thread. In the third room counsellors from Noar Telem, the Israel Reform Youth Movement, ran an age-appropriate mocktail , where they also oversaw a karaoke activity for the youth and children, complete with dancing and singing.
A selfie stand, arranged and created from scratch by Tahel, a fourth grader and an active member in our community, was displayed in the hallway featuring a cake stand celebrating our congregation's Bat Mitzvah this Hannukah (12 years and going strong!). The cake was created by a talented designer and community member, Noa V., who made it from paper-mache, cardboard paper and colorful beads. Post-it notes were available for community members to write a birthday wish and attach it to the cake, creating a touching collage of Bat Mitzvah blessings from all our wonderful family and friends. Three large refreshments tables quickly filled up with delicious potato latkes and other traditional, homemade Hannukah dishes brought to the party by community members for everyone.
Finally, we all came together for memorable performances and candle lighting. Our 1st, 2nd and 3rd graders performed a unique Hannukah-themed rap song they prepared at school with Nati, a rap artist and parent in the community. And our pre-K group performed a song and dance with their teacher Reut, whose family is also a veteran and active member in our community. We also watched a two-minute presentation, created by one of our board members, Gidon, showcasing pictures and videos of memorable and pivotal moments of our community's milestones from the last 12 years.
After lighting the sixth candle together, our community band Ha'Avot veHa'Imahot (The Matriarchs and the Patriarchs/ The Mamas and the Papas) took the stage and rocked the house! For thirty minutes we all danced to Bat Mitzvah-themed songs that lifted our spirits and ended the party on a high note, leaving everyone wanting more.
And of course, what's a Hannukah party without Sufganiyot?! The festive and different flavored Sufganiyot our volunteers handed out to everyone on their way out was the sweetest way to end the perfect evening!